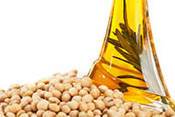 Applications
Food Industry
Baked Goods, Confections, Infant, Formulas, Cheese Products, Dietetic Products, Dairy Products, Instant Foods, Margarines & Shortening, Meat & Poultry, Processing & Coating, Chocolate Rheology, Industrial applications range from paints and coatings & plastics to cosmetics and magnetic tape media.
Industrial applications
Adhesives, Absorbents, Animal Feeds, Absorbents, Ceramic and Glass, Cosmetics and Soaps, Detergents, Dust Control, Fertilizers, Inks, Leather, Magnetic Tape, Masonry and Asphalt, Metal Processing, Paint and Coatings, Paper Pesticides, Petroleum / Oil, Polymers / Rubber, Textiles.

Specifications >
NEWS & EVENTS
Launching New Product
Soya Lecithin Granules
January 2014.
With a positive vision, focused approach ideas and team work, we have made an active presence in international market of our soya products.